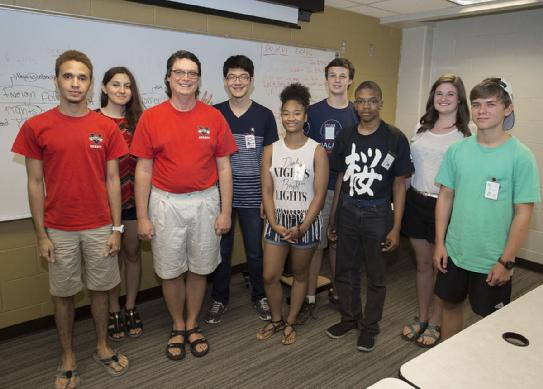 VALDOSTA — The nationally ranked Valdosta State University Forensics (Speech and Debate) Team will host a weeklong debate and individual events summer camp June 22-27.
Six students — two from Valdosta High School, two from Evans High School, one from Thomasville High School, and one from Rockdale Magnet School — will experience campus life, including living in a residence hall and eating at Palm's Dining, as they learn from some of the university's best and brightest debate and individual events experts.
This is the first time VSU has hosted this camp since 2005.
Dr. Michael H. Eaves, director of forensics and a professor in the Department of Communication Arts Speech Communications Area at VSU, said the campers will participate in a variety of activities, including lectures, speed drills, flowing and listening skills exercises, as well as debate case construction and individual events piece construction labs. They will study argument and persuasion, diction and speech, debate technique, and more.
The camp will conclude with speeches and critiques and a brief tournament.
Contact Dr. Michael H. Eaves at (229) 259-5116 or meaves@valdosta.edu for more information.
About VSU's Forensics (Speech and Debate) Team
The VSU Forensics (Speech and Debate) Team is open to all majors on campus and does not require previous experience. The team competes in regional and national level competitions and participates in parliamentary debate as well as individual events, including impromptu speaking, extemporaneous speaking, informative speaking, persuasion, dramatic interpretation, dramatic duo, poetry interpretation, and more.
http://www.valdosta.edu/about/news/releases/2015/06/vsu-hosts-intensive-debate,-individual-events-camp-june-22-27.php