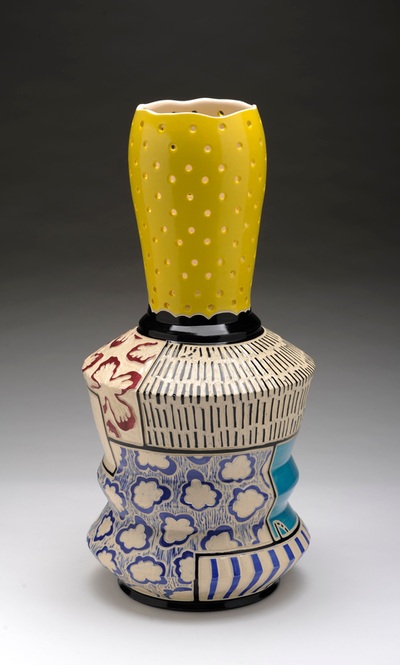 Every year we say hello to new faces in the College of the Arts hallways, and some of those are new faculty. Mark Errol is a new lecturer joining the Art Department. Mr. Errol received his Bachelor of Fine Arts degree from State University of New York at New Paltz, his Master of Fine Arts degree from Georgia State University, and his Teaching Certificate from Florida Atlantic University. Mr. Errol is currently teaching Ceramics 1, 3-D Design, and Arts Appreciation. Mr. Errol took some time from his busy schedule to answer a few questions for us.
Question: Why did you choose your field of study?
Errol: As a working artist in the field of ceramics, teaching was a natural fit for me. I really enjoy sharing my passion and knowledge with students.
Q: What areas of research are you interested in?
Errol: My research falls into two main categories, the first being functional and decorative ceramic wares catering to the domestic environment. Secondly, I work with ceramics and other media in the exploration of masculinity, regional studies and gender as a more personal outlet.
Q: Why did you choose Valdosta State University?
Errol: Valdosta State University Art Department is an excellent mix of talented and caring faculty, wonderful facilities and I really love the chance to work and live in a more rural setting than where I have spent the earlier parts of my life.
Q: What is your favorite place on campus and why?
Errol: My favorite place has to be the ceramics studio because it is a hub for multiple avenues for creativity, energy and diverse interdisciplinary action. It is an environment where students have really shown me their enjoyment in discovering a material as well as an outlet for a new-found creativity.
Q: What makes a good student?
Errol: In my eyes a good student is one willing to have lots of little failures on their way to greater knowledge and growth as an artist. Students who put in the time and dedication to their studies succeed exponentially beyond what we can facilitate as educators.
Q: Could you tell us a little about your family?
Errol: My family consists of my partner and our dog Gus. We live a rather quiet though full life. We run an art gallery in Tifton, we both have full time jobs and we enjoy working on our home and sharing our life with family and friends.
Q: What has been the highlight of your career so far?
Errol: I find this to be a tough question to answer in that every day I find great highlights and they make up the whole of a great life and happy career so far.
Q: What particular skills or talents are most essential to be effective in your job?
Errol: To be the best at my job is to be passionate. Whether that is a skill or not I am not sure, but I do think it is essential. Being in education at any level is difficult but when you are deeply passionate about what you are teaching, it is must easier to excite and nourish others about what they are learning.
For more information about the work Mr. Errol does, check out his website at http://www.marksmud.com/
Article by Peggy Harless and Sarah Cain