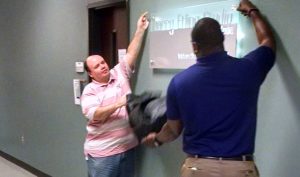 Asst Prof. Jason Brown of the Mass Media Program and alum Richard Harkness unveiled the newly constructed sign for the Larry Etling Studio.
The unveiling was attended by members of the Communication Arts Department, family, friends and former VSU students.
Dr. Etling passed away during the Spring 2015 semester after having spent 16 years as a beloved faculty at Valdosta State University teaching in the Mass Media program. When he passed, Dr. Etling endowed a scholarship in his name for students in the Mass Media program. Details and applications will be made available shortly for students.