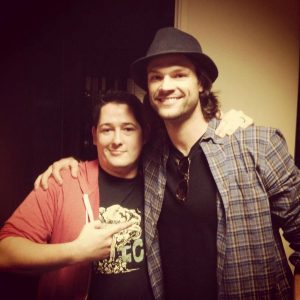 Pictured below: VSU graduate John Bring, left, and Supernatural actor Jared Padalecki.
PRESS RELEASE: "JOHN BRING, TV SCREENWRITER, ADDRESSES FVS"
FROM: DENNIS CONWAY, FOR THE FVS     DATE: NOVEMBER 17, 2016
John Bring, a screenwriter for the TV show, Supernatural, addressed the Film and Video Society Wednesday night, Nov. 16, and explained how a former VSU Mass Media major builds a career in Hollywood.  Bring conversed via Skype, from the Warner Brothers Studios in Burbank, California, and spoke for an hour from the Supernatural Writers' Room, taking questions from members.  This year, he has written Episode #18 of 23 Supernatural shows, a program on the CW channel lineup.  The fantasy horror television series debuted in 2005, and features two brothers as they hunt demons, ghosts, monsters, and other supernatural beings.  His upcoming episode involves a wrestling storyline, to be shot in Vancouver, Canada, but he could not give advance details before  the episode premieres.  Bring graduated from VSU in 2005, served as the FVS's first leader, and won its first film festival.
Bring, also a Valdosta High School graduate, told students that he saved his money for a year, before moving to Los Angeles, and survived by taking roles as a movie extra with Central Casting, serving as background in movies and TV shows.  He also took temporary office jobs, which often involved working for agents and celebrities such as singer Josh Groban.  He claims that his big break came when he worked on an independent movie called Snakes on a Train (not to be confused with Snakes on a Plane) as the Second Assistant Director.   After that, he worked on TV shows such as Without A Trace, about a Missing Persons Unit of the FBI in New York City, and comedies such as The New Adventures of Old Christine starring Seinfeld's Julia Louis-Dreyfus.   Bring started as a writer's assistant at Supernatural in Season 9, and beginning with Season 12, was promoted to staff writer.   He has been working steadily in production for about ten years.
Bring's advice to students who land entry-level jobs in Hollywood include: "Don't say 'No' to any task, no matter how menial.  Listen to advice.  Accept any negatives, for self-examination.  Be nice to everyone.  Never stop learning.  Don't get discouraged."  He adds that for young writers, "Their first idea is not their best.  Get attuned to criticism. And have an answer to the question, "What's Next?" for both your script and your career."  He says that people in Hollywood will look at student films, but shorts (under ten minutes) are preferable to longer pieces, and that students should "make them your best."   Bring adds that films under ten minutes also have "the best chance for being programmed at film festivals."  He is currently meeting with various studios in Hollywood to produce his own TV series, and tells us that currently, "horror shows are hot."    He hopes to someday become a Showrunner, which is a combination job of Head Writer and Producer for a TV series.
During his free time, Bring writes and directs his own video productions, and has even authored a comic book.  He says that he is "impressed" by the growth of the production industry in Atlanta, which didn't exist when he graduated college.  He hopes that Mass Media graduates can gain jobs there.   Bring also said that he was excited by the growth and quality of VSU's Mass Media program and facilities over the years, which he visited last year.    Finally, Bring enjoys the California lifestyle, and mentions that he lives across the street from the Warner Brother Studios, and can even walk to work, which makes him the envy of his co-workers, who must commute in heavy traffic.
Film and Video Society President Nathan Ragland first contacted Bring via Facebook, and set up the interview.  For more information about joining the FVS, email Nathan at ndragland@valdosta.edu.