VALDOSTA — Everyone's favorite flatulent ogre will secure his place in the hearts of South Georgians of all ages when Peach State Summer Theatre kicks off a 16-performance run of "Shrek the Musical" at 7:30 p.m. on Friday, June 2, at Valdosta State University's Sawyer Theatre. Tickets are on sale now.
Based on the Oscar-winning DreamWorks Animation film released in 2001 and the 1990 book by William Steig, "Shrek the Musical" is "a one-of-a-kind, hilarious fairy tale in which curses are reversed, monsters get the girls, donkeys and dragons find love, and princesses are beautiful in all shapes and sizes," according to StageAgent.com.
"Shrek the Musical" opened on Broadway in New York City at the Broadway Theatre on Dec. 14, 2008. It closed on Jan. 3, 2010, after a 441-performance run. This was followed by national tours across the United States, a West End production at London's Theatre Royal Drury Lane, United Kingdom and Ireland tours, and international productions across Asia, Europe, South America, and beyond. It has earned a Grammy Award nomination, eight Tony Award nominations, 11 Drama Desk Award nominations, and four Laurence Olivier Award nominations and received accolades for its costume design, set design, and cast.
Directed by VSU's Jacque Wheeler, Peach State Summer Theatre's production of "Shrek the Musical" is rated G and is sponsored, in part, by Wild Adventures Theme Park.
Individual admission is $32 for adults, $26 for students and senior citizens, and $24 for Peach State Summer Theatre fans in groups of 10 or more, including taxes and fees.
Season memberships are available through Friday, June 2. The cost is $86.46 for adults and $83.25 for students and senior citizens, including taxes and fees. Each season membership includes three admissions to be used as desired by the member with advance reservations.
Patronages are also available at a variety of levels.
The Peach State Summer Theatre Box Office is open from 10 a.m. to 5 p.m. Tuesday through Saturday and 10 a.m. to 1 p.m. Sundays. It is located on the first floor of the VSU Fine Arts Building, at the corner of Brookwood Drive and Oak Street, and can be reached by calling (229) 259-7770. The online box office at www.valdosta.edu/psst is open 24 hours a day, seven days a week.
Peach State Summer Theatre, or PSST!, is Valdosta's premiere professional summer stock theatre. Each summer, dozens of singers, dancers, technicians, managers, and creators gather on the campus of Valdosta State University for 10 weeks, and during that time, they rehearse, build, and present three musicals in rotating repertory. "Forever Plaid" opens on Friday, June 16, and "My Fair Lady" opens on Friday, June 23.
The 2017 Peach State Summer Theatre season marks the 28th year of VSU producing professional theatre for the city of Valdosta, the state of Georgia, and beyond. From 1990 to 2004, VSU produced the Jekyll Island Musical Theatre Festival. In 2005, the summer theatre program was relocated to the university and renamed PSST!
The Georgia Legislature designated Valdosta State's summer stock theatre program the Official Musical Theatre of the State of Georgia.
VSU's Jacque Wheeler serves as the artistic director of Peach State Summer Theatre. H. Duke Guthrie is the managing director.
Sawyer Theatre and the PSST! Box Office are located on the first floor of VSU's Fine Arts Building, at the intersection of Oak Street and Brookwood Drive.
Visit www.valdosta.edu/psst for more information.
Visit www.facebook.com/vstatenews to view photos and learn more about the cast and crew.
"Shrek the Musical" Performance Schedule
• 7:30 p.m. Friday, June 2
• 7:30 p.m. Saturday, June 3, Interpreted for the Deaf in American Sign Language
• 3 p.m. Sunday, June 4
• 7:30 p.m. Friday, June 9
• 7:30 p.m. Saturday, June 10, Pay What You Can Performance
• 3 p.m. Sunday, June 11
• 3 p.m. Sunday, June 18
• 7:30 p.m. Saturday, June 24
• 2 p.m. Wednesday, June 28
• 10 a.m. Thursday, June 29
• 3 p.m. Sunday, July 2
• 2 p.m. Wednesday, July 5
• 10 a.m. Thursday, July 6
• 3 p.m. Sunday, July 9
• 7:30 p.m. Thursday, July 13
• 2 p.m. Saturday, July 15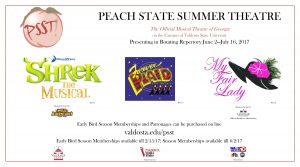 Jessica Pope
Communications and Media Relations Coordinator