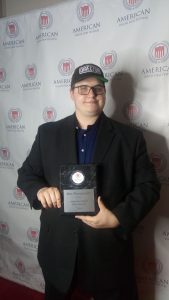 This past weekend, four Valdosta State University students won big at the American Youth Film Festival (AYFF) held in Atlanta, Ga.
Competing among other college students from across the nation, the Valdosta State students submitted work that they produced independently and within their Mass Media courses. Nathan Ragland, graduate of Oglethorpe County High School, won for Best Photography for his mini-documentary, Caiden's Photo's. Ryan Braynt, graduate of Hart County High School, won for best Movie Poster for his film Shut In, which also screened at the South Georgia Film Festival. Seniors Matt Snow, of Lanier County High School, and Taren Pinesett won Best Commercial for their spot for Hollywood Needle Tattoo, which was produced in Prof. Dennis Conway's Production II class.
Valdosta State students received discounted submissions to the AYFF in conjunction with the festival's partnership with the South Georgia Film Festival. The AYFF seeks to create a positive platform for young people to discover and explore their talents as filmmakers.
Article submitted by: Jason Brown, Associate Professor Mass Media