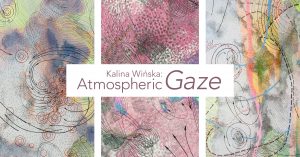 August 31, 2018 For Immediate Release
Contact: Ashtonn Means
Department of Art & Design
Colorado Mesa University
970.248.1833
437CO, CMU's art gallery in downtown Grand Junction
Kalina Winska: Atmospheric Gaze
September 7-28, 2018
Gallery Hours: Monday-Saturday 12-5pm
First Friday Opening Reception: Friday, September 7, 5-8pm
Artist Talk 5:30pm; local wine and beer available for purchase.
437 Colorado Avenue in Grand Junction, Colorado
FREE AND OPEN TO THE PUBLIC
The Colorado Mesa University Department of Art & Design presents Atmospheric Gaze,
featuring mixed-media drawings by Georgia-based artist Kalina Winska, in the downtown
art gallery from September 7-28, 2018.
Winska's Atmospheric Gaze series analyzes nature through scientific data, such as radar
images, weather surface analysis data, and ERSST data, that is transformed into
Kalina Winska, Cloudscape III (With Yellow-Green
Isolines). Graphite, acrylic paint, and gesso on wood
panel, 18 x 24 inches, 2018
2 of 2
exceptionally rendered abstracted drawings. Her works involve layers of materials such as
graphite, colored pencil, watercolor paint, and gesso. Working on Yupo paper, a synthetic
paper normally used for commercial and technical purposes, Winska achieves a delicate
layering of colors, lines, and various marks. Her work contributes to contemporary
dialogues around climate change and environmental research.
Kalina Winska is originally from Poland and received an MFA from The Academy of Art and
Design in Wroclaw in 2009 and The University of Florida in 2012. She has exhibited her
works across the United States and in Poland. She has been awarded artist residencies at
the Vermont Studio Center in Johnson, VT, Atlantic Center for the Arts in New Smyrna
Beach, FL, Crooked Tree Arts Center in Petoskey, MI, and Contemporary Artist Center at
Woodside in Troy, NY. Currently, she is an associate professor at Valdosta State University,
in Valdosta, Georgia, teaching drawing and foundation level courses. This is the first
exhibition of her work in Colorado.
437CO, CMU's art gallery, is located at 437 Colorado Avenue in Grand Junction, Colorado.
Gallery hours are Monday through Saturday 12-5pm. Admission is free. On Friday,
September 7 from 5-8pm there will be a public reception to view the exhibit and meet the
artist, with an artist talk scheduled for 5:30pm. Wine from Carlson Vineyards and beer from
Palisade Brewing Company will be available for purchase at the reception. For more
information, call the Department of Art & Design at 970.248.1833.