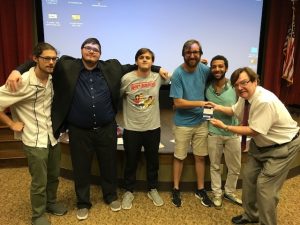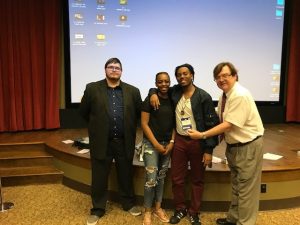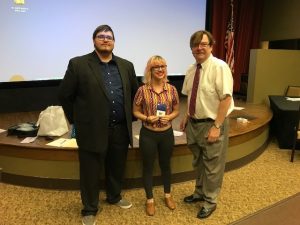 FROM: DENNIS CONWAY, FOR THE FVS                             DATE: MAY 7, 2019
            What if your father murdered your mother and then spent years stalking you,
because you could serve as a murder case witness against him?   That was the story line for the student film thriller, "See You Soon," which received the First Place Audience Favorite Award at the Film and Video Society's Spring Student Showcase.
The two-hour show was held in the Student Union Theatre, on Sunday night, May 5, and winners earned gift certificates to Best Buy for the Audience Favorite category, as voted by the audience.  The program included short films, music videos, movie trailers, promotional, and mini-documentary pieces from the Mass Media program.  It was attended by almost one hundred people, and 18 different pieces were screened.
"See You Soon," a 22-minute film, tells the story of a young man, played by Church Barnas, who suffers from visions of being followed by his violent parent, and who must actually confront him in the end. It was written and directed by Max Steele, produced by Ray Hannah, with videography by Nathan Ragland, and Audio by Alex Moore. The piece was created in the Mass Media Capstone production class.
The Second Place award went to "White Rose," a narrative video created for an interactive media website, in which the viewer may choose the decisions the onscreen character makes, and see the result.  The story concerns a  young married woman with an abusive husband, and the decisions she makes to deal with her situation. There are numerous narratives and endings which can be selected.   The piece was created by the New Media Workshop class students, and can be found at: https://video.helloeko.com/v/Aj03dM?autoplay=true.
The Third Place award went to Kayley Tudor for her 12 – minute drama, "Cinderfella," which she wrote, directed, and edited, in the Video Workshop class. Told from a "First Person Camera perspective," this piece explores how LGBT members of society deal with prejudice.
FVS Faculty Advisor Dennis Conway and President Nathan Ragland hosted the event. FVS Officers James Hourigan, Cameron Tudor, Arriana Williams, and Peter Falkenhausen served as Production Crew.
The Film and Video Society meets on the first and third Wednesdays of the month in the Mass Media Building.   The organization facilitates production of narrative and documentary videos through connecting filmmakers with other enthusiasts, and offers a venue for others to view your productions at its Showcases.  It also sponsors a yearly Viewing Party on Oscar night, "Reel Wars" debates about film industry topics, a 48 Hour Film Festival, editing workshops, and other film showings.   Email dpconway@valdosta.edu for more information.