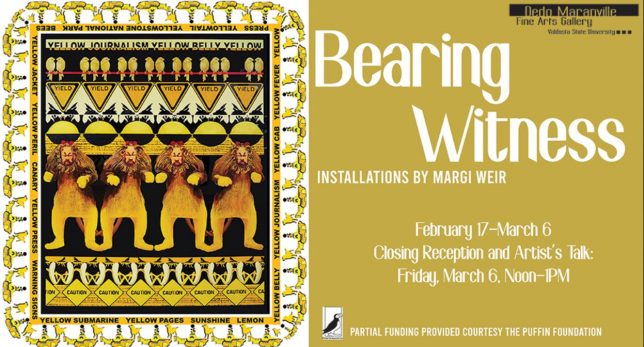 Calling Students and Faculty of:
Political Science
Art and Design
History
English
Psychology
Human Services
Communication Arts
African American Studies
Sociology, Anthropology and Social Justice
And The Human Condition
To See:
Bearing Witness
Installations by Margi Weir
February 17-March 6
Closing Reception and Artist's Talk:
Friday, March 6, Noon-1PM
Gallery Hours: Monday & Wednesday 10am-5:30PM, Tuesday & Thursday: 8:30am-5:30pm, Friday: 8:30am-3pm
Contact: Julie Bowland, Gallery Director, 229.333.5835, jabowlan@valdosta.edu
Dedo Maranville Fine Arts Gallery
VSU Fine Arts Building
Corner of Brookwood and N. Oak Streets
It is difficult to describe the new exhibition in the Gallery. It is both political and personal. It is painting, drawing, illustration, graphic design, sculpture, and installation. The walls are enveloped in color, shape, symbols, patterns and words expressing passion, anger, fear and humor. One entire wall is transformed into a multi-media installation depicting four unjust scenarios entitled Justice Quartet. Many of the other large works covering the walls are from a series entitled the Politics of Hue which depict the symbols and associations of color, and our perception of our culture and the world in which we live.
Margi Weir, an Associate Professor of Painting and Drawing at Wayne State University in Detroit, Michigan, calls upon figurative arrangements and presents them in a tapestry-like fashion; the juxtaposition of elements creates unique pleasing patterns, blurring—but not hiding—the socio-political and ecological themes in her pieces.
Margi Weir describes her work:
My work, creative research, has always been about topics that are personal even if political. It is often the only way that I can come to terms with things that anger me or frighten me. I have become so horrified by the level of anger and division in this country that I must take a look at it through making work about it. I don't expect my work to change anything, but through a juxtaposition of images, I hope the viewer will come away with a continued questioning of their own.
In 2019, the Puffin Foundation awarded Weir a grant to support her work on Justice in America that was shown in solo shows in San Antonio, Texas; Washington, Pennsylvania at Washington and Jefferson College; and at the Peace and Justice Center Gallery in Detroit, Michigan. Weir has won numerous awards for her work, including a 2016 Best of Show Grand Prize at the Las Vegas Contemporary Art Center as well as a 2015 Best of Show award in the Human Rights Exhibition, South Texas College, McAllen, TX.
Additionally, she has had many solo exhibitions across the country, notably at Ivan Karp's OK Harris Gallery in New York and the Ruth Bachofner Gallery in Santa Monica, CA. She has completed installation pieces at Athens Institute of Contemporary Art (ATHICA), Jonathan Ferrara Gallery (New Orleans LA), Central Features Gallery (Albuquerque NM), Lexington Art League (Lexington KY), the Elaine Jacob Gallery (Detroit, MI) and the Las Cruces Museum of Art (Las Cruces, NM).
Margi Weir earned her MFA in painting from the University of California at Los Angeles (UCLA); her MA in painting from New Mexico State University; her BFA in painting from San Francisco Art Institute; and her BA in art history from Wheaton College, Massachusetts.