September 23, 2020: 20-177
Jessica Pope Communications and Media Relations Coordinator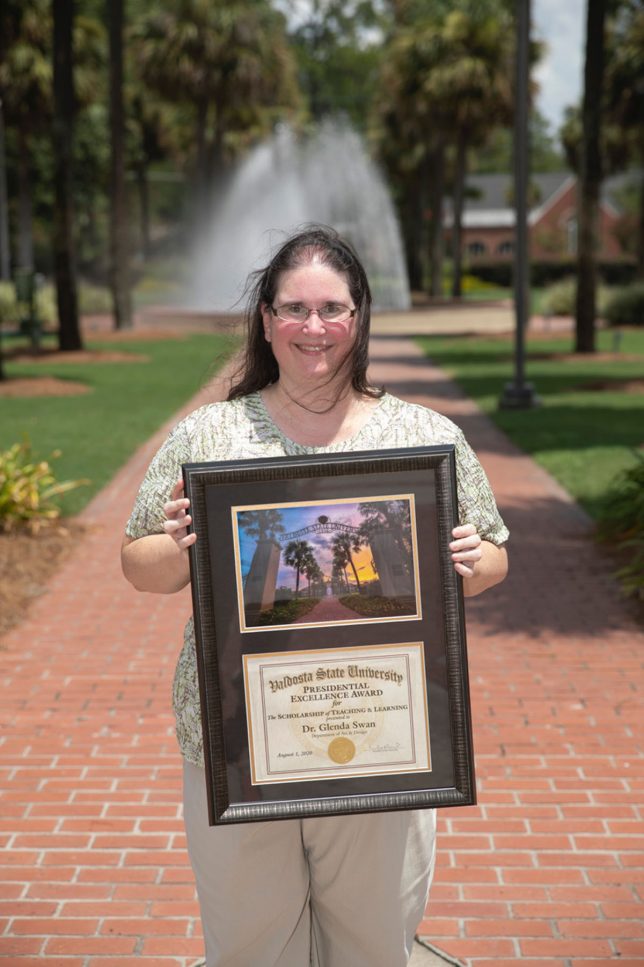 VALDOSTA — Dr. Glenda Swan is the recipient of Valdosta State University's Presidential Excellence Award for Scholarship of Teaching and Learning.
The Presidential Excellence Award for Scholarship of Teaching and Learning recognizes a faculty member who produces innovative scholarly work on the science of teaching and learning and regularly contributes new questions and knowledge on the subject.
Swan, an associate professor in the Department of Art and Design, joined the VSU faculty in 2013. She primarily teaches courses in art history and perspectives and enjoys researching ancient art.
"In my early years of teaching, most of what I achieved came from trial and error," she said. "When I finally discovered the scholarship of teaching and learning at a conference, however, an entire new world opened up for me. I was so excited to see how many other scholars in such a wide range of fields were interested in finding tools and techniques that demonstrated an increase in student learning."
Swan said reading about the pedagogical study in other disciplines was often helpful, but she quickly realized that most of the scholarship of teaching and learning in art was associated with arts education rather than art history. Of those studies that did relate to art history, very few addressed ancient art.
"Since coming to VSU I have worked very hard to increase awareness of the effective pedagogical approaches that I've used in my own classes beyond that restricted space," she said. "I have focused particularly on discovering useful strategies to engage contemporary studio art students in ancient art as well as the larger discipline of art history itself. I employ a variety of strategies in the classroom to help students understand that they can learn to look beyond the surface of an image and see things from a new perspective, regardless of the time and place where that image may have originated."
Swan stressed that it is important for class content to be made interesting and relevant to students in order to stimulate engagement and comprehension. It is also important for teachers to have a clearly defined set of goals that form the core concepts and skills upon which students will be evaluated — and that students understand the purpose behind the activities they are being asked to do.
Swan makes it a priority to be inclusive and accessible to her students throughout the learning and evaluation processes. She encourages her students to take an active role in crafting the classroom environment. She finds unique ways to connect ancient ways of life with modern belief systems. She believes visual literacy benefits all students, regardless of their major, because in a modern digital world, visual analysis of an image is a must-have skill for success.
"I always want to remain open so that I might discover new approaches and ideas to help students understand and retain information," she said.
"The classroom is, for me, a place of constantly ongoing exploration, where I am both teacher and learner. I honestly believe that this perspective into teaching is why I continue to remain excited at the thought of being able to walk through the classroom door each day."
The Presidential Excellence Award for faculty is an annual tradition at VSU, one that recognizes the diverse talents and contributions of the university's innovative and active faculty. Dr. Richard A. Carvajal, president of VSU, presents the highly coveted awards in five categories — teaching, research, service, online teaching, and scholarship of teaching and learning.