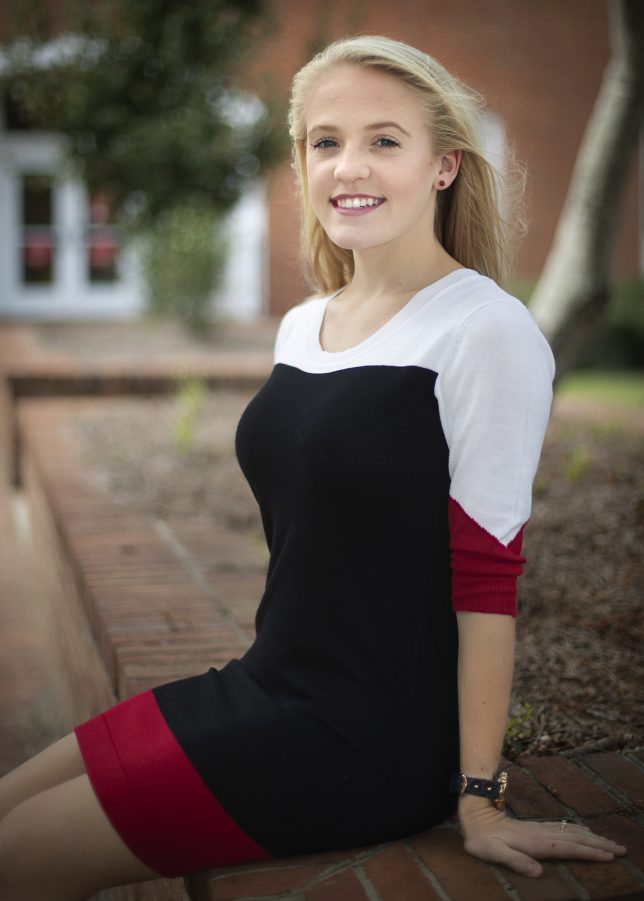 November 11, 2020
20-200
Jessica Pope
Communications and Media Relations Coordinator
VALDOSTA — Olivia Jeanette Rosener of Fort Mill, South Carolina, is the recipient of the Fall 2020 President's Award for Academic Excellence for the College of the Arts at Valdosta State University.
The President's Award for Academic Excellence is presented to the graduating student with the highest grade point average in each of VSU's six colleges — Harley Langdale Jr. College of Business Administration, College of Nursing and Health Sciences, College of the Arts, James L. and Dorothy H. Dewar College of Education and Human Services, College of Humanities and Social Sciences, and College of Science and Mathematics.
Rosener will be recognized during VSU's 230th Commencement at 12:30 p.m. on Monday, Dec. 14, at Bazemore-Hyder Stadium. She will graduate summa cum laude with a Bachelor of Fine Arts in Mass Media and an Honors College Certificate.
"This is the greatest and most honoring award I have ever received," she said. "I want to thank God for leading me, my parents for supporting me, my professors for mentoring me, and my cross country coach for pushing me to always be better in every possible way."
As a student at VSU, Rosener was a member of the Christian Student Center-Church of Christ, Women's Cross Country Team, Student-Athlete Advisory Committee, Society of Collegiate Journalists, National Society of Collegiate Scholars, and Sigma Alpha Pi: The National Society of Leadership and Success.
Rosener was selected to participate in VSU's 2018 Undergraduate Research Symposium Three-Minute Video Competition. Her video was based on research she and a classmate conducted on social trends and events hosted by VSU students and organizations from 1980 to modern day. She was also selected to participate in the 2020 Georgia Undergraduate Research Conference, where she presented branding and marketing materials she and two classmates created for the Harley Langdale Jr. Foundation's Community Schools Connection Program.
Rosener's commitment to academic, athletic, research, and leadership excellence resulted in her earning repeated Dean's List honors and the 2019-2020 Most Outstanding Student Award from the College of the Arts' Mass Media Program.
In her role as a student-athlete, Rosener was recognized on the Gulf South Conference Honor Roll in 2017, 2018, and 2019. She also earned VSU's Student-Athlete Academic Spotlight Award in Spring 2018, Fall 2018, and Fall 2019, as well as the Student-Athlete Academic Award during the 2019-2020 academic year.
Rosener plans to pursue a career in broadcast journalism as a producer or multimedia journalist. She is dog mom to Lily and Sly and daughter of Marty and Beth Rosener. She married Zachary Gregory in late November.