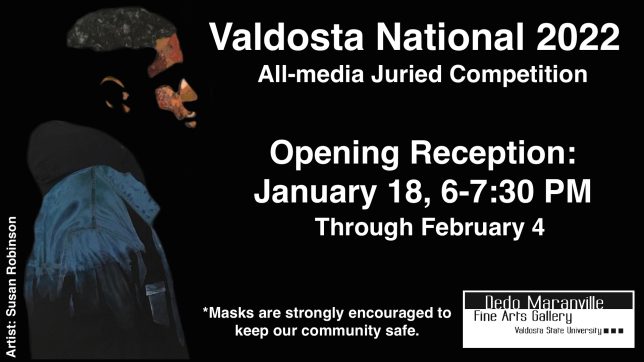 Valdosta National Poster created by artist Susan Robinson. Valdosta National 2022; Opening Reception January 18th 6-7:30pm. Masks strongly encouraged.
---
Valdosta National 2022
All-media Juried Competition
January 18-February 4
Reception and Awards Ceremony: Tuesday, January 18, 6-7:30pm
The gallery is not open earlier that 6:00PM on January 18.
Food and drink will not be offered at the reception.
We strongly recommend that visitors wear masks to help keep our community safe.
Gallery Hours: Monday-Thursday: 8:30am-5:30pm, Friday: 8:00am-3pm
Due to a staff shortage the gallery may not be open all posted hours.
Please call ahead to be sure.
Contact: Julie Bowland, Gallery Director, 229.333.5835, jabowlan@valdosta.edu
The Valdosta National 2022 all-media juried competition opens at 6 p.m. on Tuesday, January 18, with a reception and awards ceremony. The exhibition will run through Friday, February 4, and is free and open to the public. The selection process was highly competitive. 344 individual works of art by 136 adult artists from 39 states across the country were submitted for the Dedo Maranville Fine Arts Gallery's 34th annual showcase of contemporary visual art. Valdosta National 2022 judge Samuel Dunson invited 58 works by 58 artists from 30 states to be featured and to compete for $1,500 in awards, which will be announced at Tuesday's reception. The exhibited artworks show an excitingly diverse variety of media and artistic visions. The show is united by strong social, political, and conceptual concerns as well as implied narrative undercurrents. There are many surprising aspects to the artwork that are delightfully unpredictable. The show is bold, colorful and strongly relevant to our times.
Juror & Judge Samuel Dunson is an award-winning artist and Professor of Art at Tennessee State University with an MFA in Painting from Savannah College of Art and Design (Presidential fellowship) and a BFA in Studio Art from Tennessee State University. His painting won First Place in the Valdosta National 2021. www.samueldunson.com