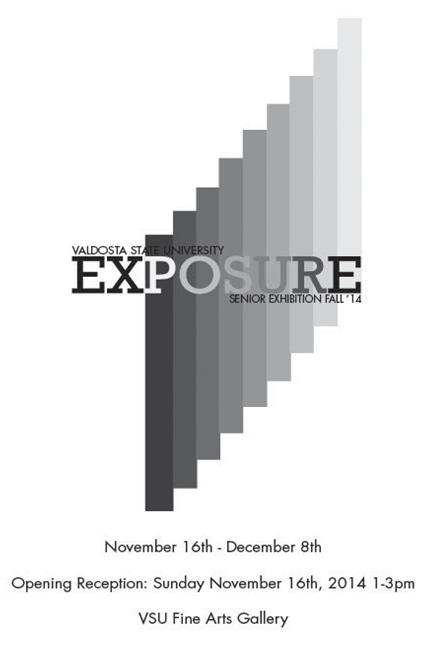 Valdosta State University's College of the Arts will celebrate the work of nine Department of Art students when it hosts Exposure in the Fine Arts Gallery. An opening reception, with a chance to meet the artists, will be held from 1 p.m. to 3 p.m. on Sunday, Nov. 16. Refreshments will be served.
Exposure features drawings, paintings, photography, ceramics, sculpture, computer animation, handmade furniture, and mixed media created by Christopher Cagle, Audrey Goodale, Caprice Kelly, Sierra King, Jacqualyn Mangels, Chelsea Miller, Astrid Scheib, Cody Stephens, and Brittney Tanner.  All of the students are art majors who anticipate graduating with either a Bachelor of Fine Arts (B.F.A.) or Bachelor of Arts (B.A.) in December.
The fall senior exhibition will run through Monday, Dec. 8.
"It will be an exciting show, free to the public, and open for all to enjoy," noted King and Cagle, the show's student promoters.
The Fine Arts Gallery is located on the first floor of the VSU Fine Arts Building, at the intersection of Oak Street and Brookwood Drive. It is open from 8 a.m. to 5:30 p.m. Monday through Thursday and from 8 a.m. to 3 p.m. on Fridays. Admission is free of charge. Please note that the gallery will be closed Nov. 24-28 for the holiday break.
Contact Julie Bowland, VSU Fine Arts Gallery director and professor of art, at (229) 333-5835 or jabowlan@valdosta.edu to learn more or to schedule a guided tour.
On the Web:
On Facebook:
VSU Fine Arts Gallery
Visit https://www.facebook.com/vstatenews?ref=hl to view images from the show.
Jessica R. Pope
Communications Specialist