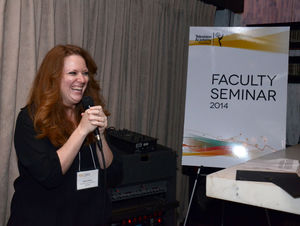 NORTH HOLLYWOOD, Calif. – The Television Academy Foundation hosted  its annual Faculty Seminar, which took place throughout Los Angeles until November 14. The Foundation's immersive Faculty Seminar connects the classroom to the industry by inviting 20 professors from across the country, introducing them to key television and entertainment players and allowing them to learn from industry professionals during the week-long seminar.  Participating professors are chosen by Television Academy members.
First launched in 1987, the Faculty Seminar continues to demonstrate the Foundation's dedication and commitment to tomorrow's industry leaders and storytellers. By investing in today's educators and connecting them directly with current leaders in the television industry, the Foundation provides an open forum to discuss the industry's future, the impact of technology and how television and entertainment is experienced.
"The Foundation's Faculty Seminar is a one-of-a-kind program that connects educators to television industry thought-leaders," said Norma Provencio Pichardo, executive director of the Television Academy Foundation.  "By immersing university faculty into the television industry, we are helping to inform lesson plans, set curricular priorities and ultimately shape future television leaders."
This year, educators will meet high-level industry professionals behind some of the top programs on television including Gabrielle Stanton (Executive Producer, "Grey's Anatomy," "Ugly Betty"), Allison Drodner (Executive Producer, "Big Brother"), Dan Harrison (EVP, Strategic Program Planning, FOX), Jeff Melvoin (Executive Producer, "Army Wives," "Alias") and Michael Lange (Director, "My Future Boyfriend").  In addition to facilitating informative panel discussions with notable television influencers, the Foundation will also take educators behind-the-scenes of major studio and production facilities.
To better reach a diverse range of educators with varying levels of exposure to the entertainment industry, the Television Academy Foundation rotates university eligibility by imposing a two-year waiting period on schools after participation in the seminar.
The educators attending this year's event include:
Anne Slatton; University of North Carolina – Asheville
Beth Bonnstetter; Adams State University
Beth Holmes; University of Scranton
Chetachi Egwu; Nova Southeastern University
Chris Clemens; California State University – San Francisco
Collin Pillow; Arkansas State University
Donna Gough; Claflin University
Evan Johnson; Normandale Community College
Glen Okonoski; Ferris State University
Julian Rodriguez; University of Texas – Arlington
Kelly Kessler; DePaul University
Kevin Clark; George Mason University
Kim Roberts; Grand Valley State University
Laurie Ouellette; University of Minnesota – Twin Cities
Marie Elliott; Valdosta State University
Robert Powell; High Point University
Rodney Smith; Ball State University
Steven Kleinman; Indiana University – Pennsylvania
Thomas Kenny; Molloy College
Travis Newton; Western Kentucky University
The Television Academy Foundation is committed to providing faculty from colleges and universities across the country with the opportunity to take part in this program.  To apply for the Faculty Seminar, candidates must submit a letter explaining why they wish to attend, how they intend to use the experience at their school and a resume including courses that they are currently teaching.  Submissions open every April, and selected delegates are notified in early September.
About the Television Academy Foundation
Established in 1959 as the charitable arm of the Television Academy, the Television Academy Foundation is dedicated to preserving the legacy of television while educating and inspiring those who will shape its future. Through renowned educational and outreach programs such as the Archive of American Television, College Television Awards and Student Internship Program the Foundation seeks to widen the circle of voices our industry represents and to create more opportunity for television to reflect all of society. For more information on the Foundation, please visit TelevisionAcademy.com/Foundation.
Link to News Release:
http://www.valdostadailytimes.com/news/lifestyles/vsu-s-elliot-attends-tv-academy-faculty-seminar/article_44af715a-6f31-11e4-9ee0-db8d5a793c4d.html