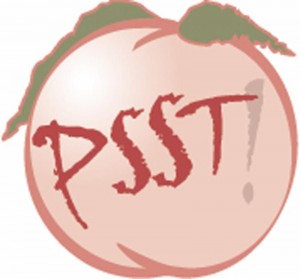 PSST! Patronages (Season Memberships + Significant Gifts to PSST! at a variety of levels)
Early Bird Season Memberships (3 admissions per membership)
are now available for purchase online.
To make an online purchase, please click here.
OR
PSST! is accepting checks, payable to Peach State Summer Theatre.  Mail checks to:
PSST!
1500 N. Patterson Street
Valdosta, GA  31698
PLEASE NOTE: Season Memberships can be purchased as a gift, if you are paying by check, please include all contact info for the recipient with the payment.  If purchasing online: it is do-able on our new system, called TicketReturn, just a bit tricky. (The Help Button is helpful: you are looking for the WORKING WITH TICKETS option and select the TRANSFERRING TICKETS guide.)  After the transaction has cleared, you can log-into Ticket Return select your PSST! 2014 tickets and follow the Help instructions to Transfer the tickets to your special someone.
ANOTHER NOTE: If you called the box office for your purchases in 2014, but wish to make your purchases for 2015 online, please create a new account.  It should be much easier that way.
If you have issues with the program, please email Duke at dguthrie@valdosta.edu and he will be able to respond Mondays through Fridays generally.
Thank you for your patience!
PSST! 2015Patronages 

All patronages have varying levels of memberships (3 admissions per membership) and gift to PSST!.

SILVER CIRCLE @ $2600
BENEFACTOR @ $1500
PRODUCER @ 1000
PARTNER @ $500
SUPPORTER @ $250
ASSOCIATE @ $150

Each patronage value is broken down to memberships, sales tax on memberships, processing fee and potentially tax deductible gift to PSST!

If you can't purchase a patronage, we encourage you to add $26 to your membership purchase.

($26 representing the 26 seasons of Professional Summer Musicals produced by VSU!)

Season and Production Sponsorships are also available.  Please contact Duke at dguthrie@valdosta.edu.

Early Bird 

Memberships

Early Bird Memberships available till February 15, 2015 only.  Memberships offer a significant savings over single ticket prices.

Each membership has 3 admissions to the 2014! season.  The member must reserve their admissions in advance to guarantee seats at a specific performance.  The box office will open to begin taking reservations on May 19, 2015.

ADULT @ $67.20

SENIOR ADULT / STUDENT @ $61.85

Each membership price includes the membership, sales tax on memberships, and processing fee.

Early Bird Memberships offer a savings over the regular season membership price and a significant savings over the individual tickets for the three productions.
If you have questions, PSST! staff will have access to email.  But please note the Valdosta State University Campus is closed for a number of days from the end of 2014 into early 2015.
Thank you.
PSST! 2015 Offerings!
T.B.A

Winner of over 100 international awards and seen by over 65 million people worldwide, Les Misérables is an epic and uplifting story about the survival of the human spirit. The true modern classic is based on Victor Hugo's novel and features one of the most memorable scores of all time.

Please note, like the Broadway productions and recent film,
this production is rated
PG-13

 Always…Patsy Cline  is based on a true story about the country music star's friendship with a fan from Houston named Louise Seger, who befriended the star in a Texashonky-tonk in 1961, and continued a correspondence with Cline until her death.
The musical play, complete with down home country humor, and true emotion includes many of Patsy' unforgettable hits.
Rated G
PSST! is working hardto secure the third show for
the 2015 Season.

Plans are in the works for a wonderful full-length
Family-Friendly show!

Featuring:
"I Dreamed a Dream,""Master of the House,"

"Do You Hear the People Sing,"

and "Bring Him Home"

Featuring:

"Crazy," "I Fall to Pieces,"
"Sweet Dreams" and
"Walking After Midnight"

27 songs in all.

 As soon as the show is secured,we will definitely
let you know!
The Box Office will open May 19, 2015
229.259.7770