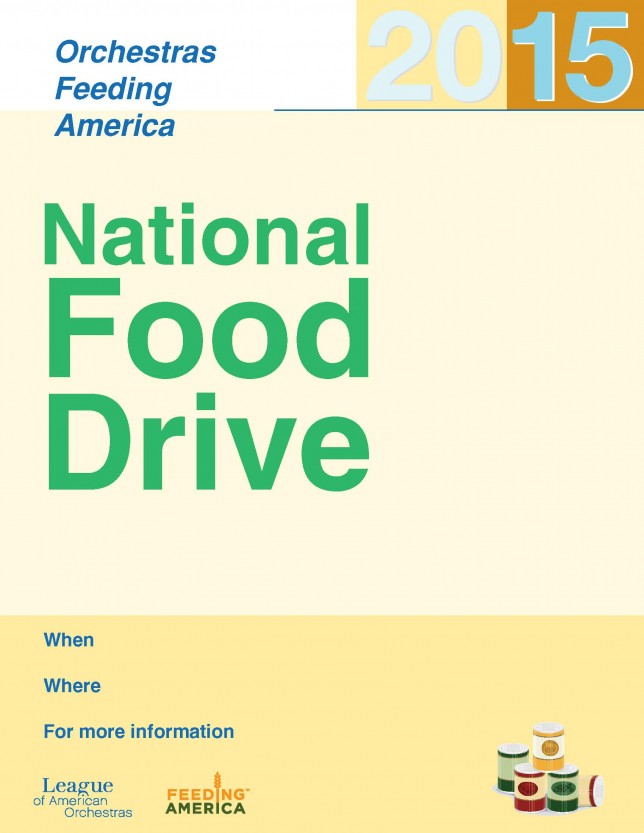 VALDOSTA — The Valdosta Symphony Orchestra (VSO) is once again participating in the annual League of American Orchestra's Orchestras Feeding America National Food Drive.
 "The food drive gives the VSO another way to serve our community," said Dr. Howard Hsu, VSO music director.
 The Valdosta State University campus and surrounding communities are asked to support the VSO's efforts by donating a nonperishable food item during the food drive. Donations can be dropped off in the lobby of the Fine Arts Building, located at the intersection of Brookwood Drive and Oak Street, or the Annette Howell Turner Center for the Arts, located at 527 N. Patterson St., Sunday, March 8 through Sunday, March 15.  Donations will also be accepted the evening of the VSO's March 14 concert, "Flicker," which takes place at 8 pm.
 The food collected will benefit Second Harvest of South Georgia, which supplies food and grocery product to more than 300 nonprofit organizations in Atkinson, Berrien, Brooks, Clinch, Cook, Echols, Lanier, Lowndes, Thomas, and Ware counties. The food bank is in need of all nonperishable food items, particularly dry soup, rice, canned or powdered milk, macaroni and cheese, cereal, peanut butter, beans, canned fruits and vegetables, tuna, canned meats, stew, soup, pasta, and fruit juices. 
 This year marks the fifty-second anniversary of Orchestras Feeding America. Since the food drive's inception, more than 250 orchestras from across the country have collected over 400,000 pounds of food for needy families.
 "The efforts of these orchestras has helped spread the word about how and why orchestras are so necessary to their communities, beyond providing amazing music," according to the League of American Orchestras.
 Contact Dr. Howard Hsu at hphsu@valdosta.edu to learn more.
 On the Web:
Note: The VSO cannot accept items in glass jars or bottles, items that are unlabeled, dented cans, homemade foods, expired products, monetary donations, any open or resealed packages, clothing, diapers, other nonfood items, or perishable foods.
For more information contact Dr. Howard Hsu below
Dr. Howard Hsu
Assistant Professor of Music
Director of Orchestra Studies
Valdosta State University
Music Director, Valdosta Symphony Orchestra
229-333-5841
 or call The Department of Music at 229-333-5804.