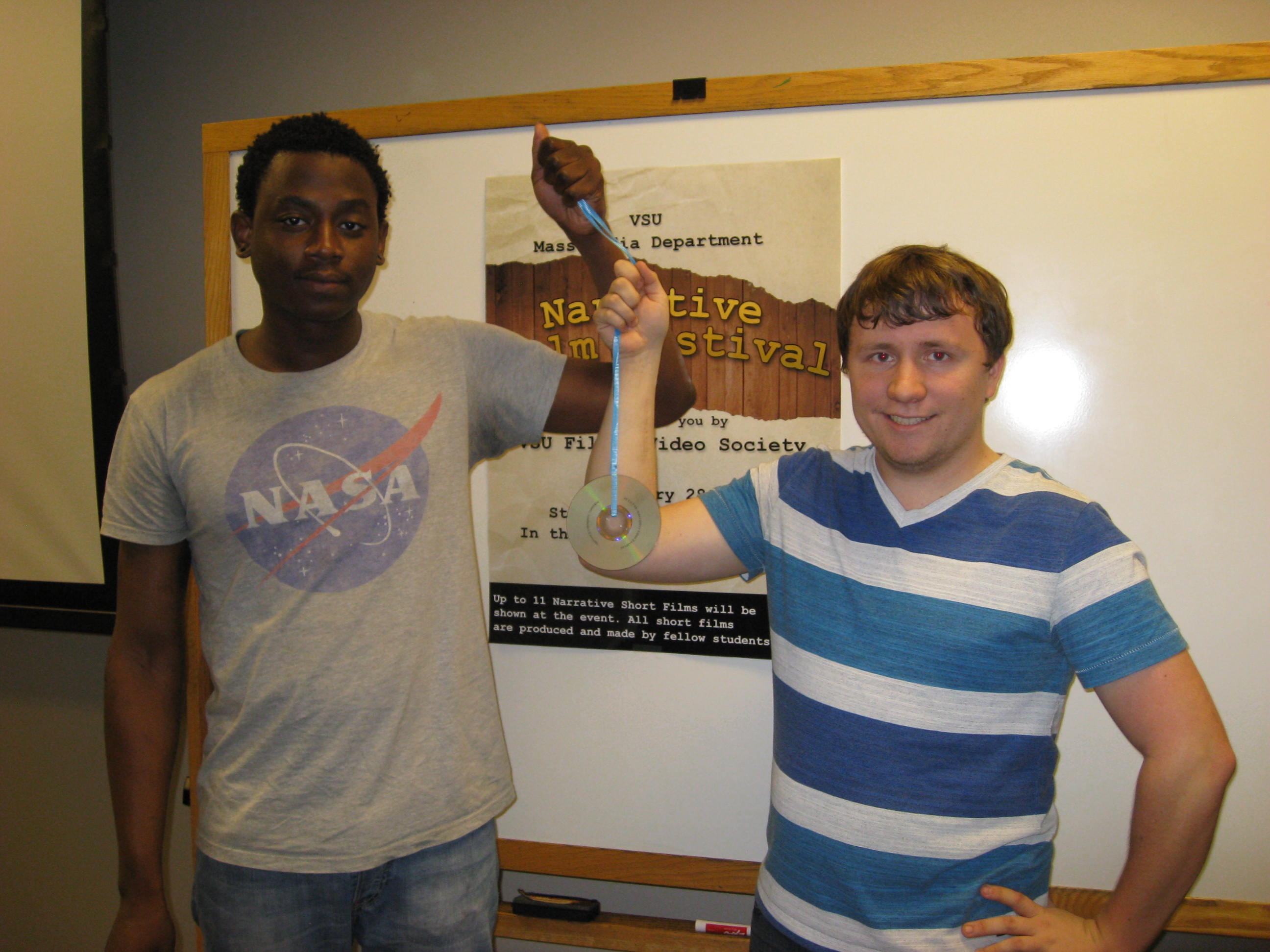 A 21-minute fictional film about a hearing-impaired young man with a secret life, was the highlight of the first VSU Narrative Film Festival, sponsored by the Film and Video Society, on Saturday, Feb. 28.
"Sloth Trot," winner of the Audience Favorite Award, was written, directed, and edited by the foursome of Garrison Muelhausen, Darris Morgan, Roberto Leal, and Taylor Williams, for the Field Production II class.   It starred Theatre Department actor, Will Stanley (recently seen in "Summer and Smoke" on the V.S.U.  stage) as a sensitive student who may be feigning deafness, to deal with the sometimes cruel behavior of his classmates.   Second Place went to "Resurfaced," a drama about a young woman haunted by family abuse in her past, created by Candice Weaver, Ashley Mooneyhan, Janie Haskins, and Safiya Goldsen.
The show was held in the Student Union Theatre, and was created to share narrative "storytelling" films created in Mass Media classes, with the public.  Frank Amoroso served as host, and the four winners split a $100 cash prize.  The selected films were created in classes taught by Professors Colin Walker (in Field Production I), Dennis Conway (Field Production II), and Jason Brown (Video Workshop) in the past school year.
The 2 ½ – hour event featured eleven films, ranging from 7 to 21 minutes in length, and included the genres of comedy, drama, mystery / thriller, and even a period piece. It was Professor Conway's idea to hold the event.  "The only people who were seeing these films were the students in those classes.  I thought it was time we shared them with others, to excite and inspire students to do quality work. We included our best material."
Garrison Muelhausen, who is also the Film and Video Society President, talks about the "Sloth Trot" production.  "Darris knew all the actors.  His best friend was Will, and he had connections with the Theatre Department.  The actors took it all very seriously.  They weren't really partying in the party scenes.  It was more like a social gathering, but sometimes they would act outlandishly for the camera."
Darris Morgan came up with the story, and wrote the script.  "It started off as a feeling of being isolated.  I wanted to explore the psychology of people being isolated, basically of their own making.   Everyone thinks the story's main character is isolated due to nature, but he's really isolating himself."
The group cast Mass Media Professor Greg Brown as the student's father, according to Morgan, "Because I thought he and Will resembled each other.  And he took the acting job seriously."  Greg Brown adds in jest, "It's nice to be cast just for being old."
The Film and Video Society meets weekly, in the Mass Media Room 1001, on Thursdays at 6:30 p.m. in Mass Media Building Room 1001.   The group's purpose is to encourage students with an interest in production, to watch and learn from films, and to assist each other with their own productions.   Upcoming events include the One-Script Film Challenge, which will hold its Interest Meeting on Thursday, March 19, and the End-Of-The-Semester Showcase will be held on April 26.    For more information about the F&VS, email Garrison Muelhausen at gdmuelhausen@valdosta.edu.
DENNIS CONWAY