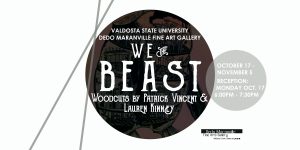 Patrick Vincent and Lauren Kinney collaborate in woodcut, using imaginary figures and places to articulate the split between seen and unseen, reality and myth, waking and dream. Their work engages the interconnection of animals and humans in folk tales and fairy tales through hidden pictures, symbols, and patterns. These works are ever-evolving as a hybrid of Vincent's investigation into animal symbolism and Kinney's surreal, graphic story-telling.
Patrick Vincent is from Minneapolis, Minnesota. He received his BFA from the University of Minnesota, Twin Cities, and his MFA from Arizona State University.  He has worked for the design/letterpress workspace Studio on Fire, the Minnesota Center for Book Arts, and Pyracantha Press. With this foundation in books, printmaking, and design, Patrick creates original works of art as well as collaborates with individuals through print media. Presently, Patrick is the Assistant Professor of Printmaking at Austin Peay State University in Clarksville, TN.
Lauren Rose Kinney is from Santa Rosa, California. Kinney received her BA from Humboldt State University and her MFA from Arizona State University. Throughout her life Kinney has been collecting things, from junk to secrets – this lifestyle of collecting greatly informs her work, allowing her to play with, combine and reinvent the things she finds. Kinney is currently based in Nashville, TN and works primarily in woodcut, screen-print and book arts.