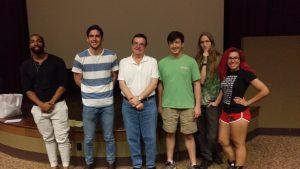 Winners' Circle (Left to Right): The Spring Mass Media / FVS Video Showcase Winners Kaylon Baker, Avery Stephen, FVS Faculty Advisor Dennis Conway, John Bickel, Jeremy Johns, and Jazmin Serrano – Arce celebrate their victory. Missing: Scarlett Ashe.
FROM: DENNIS CONWAY, FOR THE FVS                            DATE: MAY 4, 2017
The Film and Video Society held its Spring 2017 End-of-the-Semester Showcase on Sunday, April 30, featuring 27 of the Mass Media program's best student productions.    The 90 – minute show was held in the student Union Theatre, and winners won gift certificates to Best Buy for the Audience Favorite category, as voted by the attendees.   The program included ads, PSA's, short dramatic films, mini-documentaries, crowd funding and news pieces.
John Bickel, Scarlett Ashe, and Jeremy Johns won First Place for their nine-minute dramatic piece, "Passage."  The plot featured a young man and woman stuck in a time loop, as they try to leave a passage in a building.  In the hallway, they encounter the woman's boyfriend, who punches the man out, in a fit of jealousy, and when he wakes up, the story starts again, with variations.  The two people must remember and learn from their previous experiences, to finally escape the passage.   Second Place went to another drama, "Redo," a five – minute piece by Jazmin Serrano – Arce, whose plot features another time loop story, this time featuring a young man in danger of being hit by a car.  He must alter his routine, to escape his fate.   Third Place went to "Missing Her," a four  -minute Drama with Music, by Avery Stephen and Kaylon Baker, about a young man getting over an ex-girlfriend.
FVS Faculty Advisor Associate Professor Dennis Conway and Special Events Coordinator Levi Johnson hosted the event.  FVS Officers Jonathan Bice served as Video Engineer, and Maxwell Steele handled Lighting duties.  FVS President Nathan Ragland was ill, and could not attend.
The FVS will hold its Fall 2017 End-of-the-Semester Showcase in November, as well as other events in the Fall. The group meets on the first and third Wednesdays of the month at 7 p.m. in the Mass Media Building, to encourage student video production, and discuss film industry issues.     It will also host the South Georgia Film Festival, to be held in Spring of 2018.