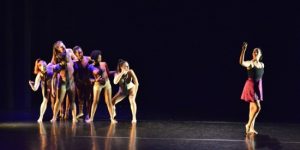 Sarah Wildes Arnett's "Stand by." (Photo by Genny Wynn Muncy)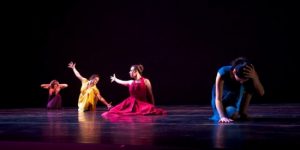 Melissa Pihos's "The Wives" (Photo by Gordon Olsen)
VALDOSTA — Sarah Wildes Arnett and Melissa Pihos have been selected to showcase the diversity and excellence of Valdosta State University's dance scene at the 23rd annual Modern Atlanta Dance Festival (MAD) May 12-13.
This will be Arnett's third time being featured at MAD. The assistant professor of dance at VSU previously presented original choreographed works in 2013 and 2014.
"I am very excited to go back as it creates stronger connections for the Valdosta arts community with the rest of the state," she said.
Arnett will present "Stand by." She premiered this work in October 2016 as part of VSU Theatre and Dance's 2016-2017 performance season. It was also featured at the American College Dance Association Southeastern Conference in Tampa, Fla., in March. She will perform this piece alongside current VSU students Sami Cohen, Sabrina Harris, Megan Foose, Rebecca Walker, and Olivia White, as well as Kassi Bosco, a May 2017 graduate.
"'Stand by.' is an exploration of the ways in which women perceive themselves based on the actions of others," she explained. "'Stand by.' makes a statement through command of craft and a wry sense of humor, making the audience pointedly aware of uncomfortable situations and social paradigms that are not funny at all — but demeaning, humiliating, and painful. Thoughtless social constructs serve to undermine self-esteem, and peer support and mindfulness can help us become comfortably our true and honest selves. Fashion or social paradigms are sometimes comical in application but ultimately inhuman and humiliating in practice."
This will be Pihos's first time at MAD. She will present "The Wives," which is an excerpt from "PIHOS A Moving Biography." Walker, Bosco, Foose, and Cohen will perform this choreographed work.
"'PIHOS A Moving Biography' is a documentary dance/film performance that focuses on the life of my father, former All–Pro Philadelphia Eagles Receiver and Pro Football Hall of Famer Pete Pihos and his fight with Alzheimer's disease," said the assistant professor of dance at VSU.
"'The Wives' takes a look at my father's private life, in which he was married four times," she continued. "… the piece shows a sensitive side of the story, including the support from his family and his ex-wife, Donna Pihos, throughout his descent into Alzheimer's disease. Donna is my mother [and] was his fourth and final wife. Even though my dad and my mom divorced when I was 12, when my dad started developing Alzheimer's disease, she took him back and took care of him until his death [in August 2011]. The piece was inspired by my mother's love for my dad and willingness to take care of him during his illness."
"PIHOS A Moving Biography" has been performed in New York City; Philadelphia, Pa.; Charlotte, N.C.; Winston-Salem, N.C.; Greensboro, N.C.; Santa Fe, N.M., and Lubbock, Texas. "The Wives" excerpt has been performed several times on its own at festivals across the United States. It was most recently performed in the faculty concert at the University of North Carolina at Charlotte and in October 2016 as part of VSU Theatre and Dance's 2016-2017 performance season.
"I am very excited to share this work with Atlanta because of my passion to raise awareness," she added.
The Modern Atlanta Dance Festival will feature two nights of performances highlighting the best of Georgia's contemporary dance choreography, technique, and artistic vision. Seven choreographers were selected for this year's event, which will also feature a special performance by Full Radius Dance and a tribute to Robert "Bobby" Barnett, former Atlanta Ballet director, and his late wife, Virginia "Ginger" Barnett.
The Modern Atlanta Dance Festival was created by Douglas Scott, artistic director of Full Radius Dance, a critically acclaimed troupe of modern dancers with various disabilities. It will be held at Balzar Theater at Herren's, located at 84 Luckie St. in Atlanta. Performances will begin at 8 p.m. each night.
Article provided by: http://www.valdosta.edu/about/news/releases/2017/05/vsu-faculty,-students-to-perform-at-mad-festival-may-12-13.php
On the Web:
https://fullradiusdance.org/mad
http://www.valdosta.edu/colleges/arts/communication-arts/
http://www.pihosamovingbio.com