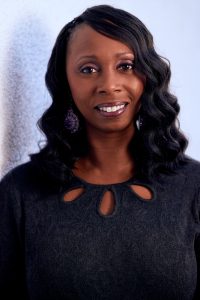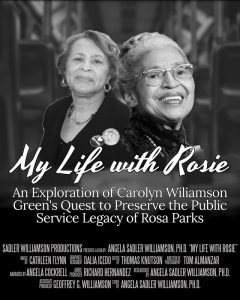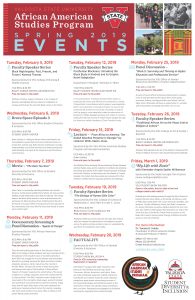 VALDOSTA – The South Georgia Film Festival will host the Georgia premiere of "My Life With Rosie," a documentary about the preservation of Rosa Park's legacy, by filmmaker Dr. Angela Sadler Williamson, who will be in attendance. The feature length documentary showcases a glimpse at the stoic civil rights icon through the eyes Carolyn Williams Green, her personal caretaker, and Dr. Jeanne Theoharris, noted historian and civil rights researcher. Sponsored by the VSU African American Studies program, the screening concludes the month long celebration of Black History Month.
Along with screening the film at 5 pm March 1 at the Valdosta State University Student Union Theater, Dr. Williamson will sit down with Dr. Leah Hunter, of Florida A&M, for a panel entitled "Preserving a Family's Legacy: Unveiling the Real Story Behind Rosa Parks." The panel will take place at noon March 1 in the Student Union Conference Rooms. High School and college students can receive a free student pass for all screenings and panels on the Valdosta State University campus.
The South Georgia Film Festival begins Friday March 1, with a day full of screenings and panels, with the opening night Kickoff at Georgia Beer Company. The festival continues with short and features films on Saturday and Sunday, along with panels with visiting filmmakers and media professionals. Sunday concludes with an awards ceremony at 1 pm and the Georgia premiere of WAKE UP at 3:30 pm in the Valdosta State University Student Union Theater. For more information on tickets, visit SouthGeorgiaFilm.com
This year's festival continues to connect with partners in the Valdosta community, including Valdosta State University, Georgia Power, Wild Adventures, the Turner Center for the Arts, WAITR, Valdosta Main Street, the Valdosta Daily Times, the City of Valdosta, Miss Kate's Tours and Coca-Cola. Promoting entrepreneurship through filmmaking, the festival continues to promote the regional film industry with panelists discussing both the craft and industrial impact of film for local businesses. This year's festival has also includes panelists Brandi Nicole Payne of Seed & Spark to discuss Crowdfunding, producer Tara Ansley, actor Ian Anderson, along with many others.
The South Georgia Film Festival received over 450 submissions worldwide in 2018. This year's festival will include feature and short films over three days at two campus locations. Along with screenings from national and international filmmakers, the festival again will be having high school and college filmmakers competing for scholarships to Valdosta State University, thanks to the support of the University Admissions Office.
Passes to this year's festival are currently available. The All Access VIP pass, which includes a t-shirt and access to the upcoming Georgia Production Partnership event costs $100. The Festival Pass which offers access to all screenings, panels and daily events are $40. Day Passes are $15 and only include screenings and panels on the VSU campus. Tickets are available through the SouthGeorgiaFilm.com website.
For more information on the South Georgia Film Festival, visit SouthGeorgiaFilm.com or contact Prof. Jason Brown at 229-219-1298 or jasonebrown@valdosta.edu.
Link to the film's trailer – http://bit.ly/MyLifeWithRosieTrailer
Link to buy tickets – https://filmfreeway.com/SOUTHGEORGIAFILMFESTIVAL/tickets