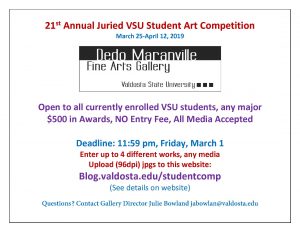 Annual Juried Student Art Competition Accepting Submissions, Deadline is March 1
VALDOSTA — The Valdosta State University Dedo Maranville Fine Arts Gallery is now accepting submissions for its 21st annual Juried Student Art Competition. All currently enrolled students, regardless of their major area of study, are encouraged to participate.
A maximum of four two-dimensional and/or three-dimensional works may be submitted for the Juried Student Art Competition. This includes graphic design, illustration (digital and traditional), interior design (presentation boards, illustrations, models, and so on), computer animation, drawing, printmaking (lithography, etching, silkscreen, relief, collographs, etc.), painting, aqueous media, jewelry, photography (digital and darkroom), ceramics, small metals, sculpture, and mixed media.
Artwork must be submitted by the student applicant, not a faculty member, and must be original, in both concept and execution. Reproductions or prints of original work will not be considered; however, printmaking, as noted above, is welcome. The work must have been completed while attending VSU and must not have been previously exhibited in the Dedo Maranville Fine Arts Gallery.
Submissions will be accepted at http://blog.valdosta.edu/studentcomp/ until 11:59 p.m. on Friday, March 1. Late submissions will not be accepted.
There are no entry fees, but there is prize money to be won — $200 for first place, $125 for second place, $100 for third place, and $75 for fourth place.
Julie Bowland
Professor and Gallery Director
Dedo Maranville Fine Arts Gallery
Department of Art & Design
College of the Arts