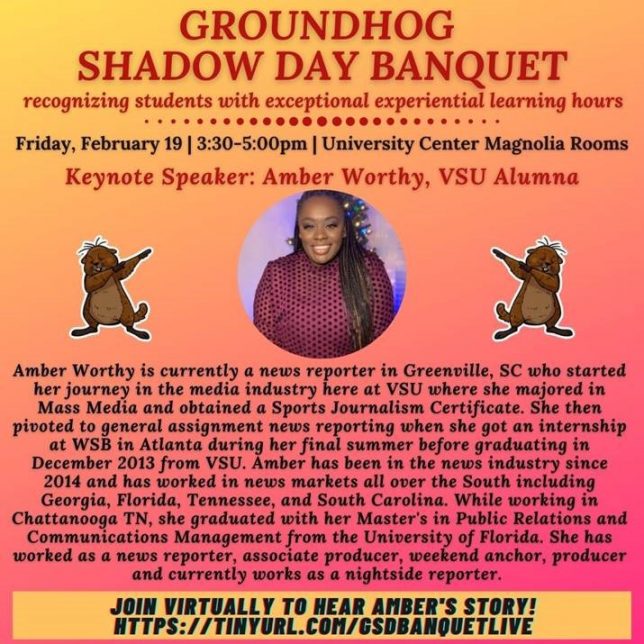 ---
Groundhog Shadow Day Banquet:
Recognizing students with exceptional experiential learning hours
Friday, February 19 | 3:30-5:00pm | University Center Magnolia Rooms
Keynote Speaker: Amber Worthy, VSU Alumna
Join virtually to hear Amber's story! https://tinyurl.com/GSDBanquetLive
---
Amber Worthy Biography:
Amber Worthy is currently a news reporter in Greenville, SC who started her journey in the media industry here at VSU where she majored in Mass Media and obtained a Sports Journalism Certificate. She then pivoted to general assignment news reporting when she got an internship at WSB in Atlanta during her final summer before graduating in December 2013 from VSU. Amber has been in the news industry since 2014 and has worked in news markets all over the South including Georgia, Florida, Tennessee, and South Carolina. While working in Chattanooga TN, she graduated with her Master's in Public Relations and Communications Management from the University of Florida. She has worked as a news reporter, associate producer, weekend anchor, producer and currently works as a nightside reporter.
For more information please contact Carla Carter Jordan, Director of Career Opportunities at 229-333-5942 or 229-333-7172