Info Security
now browsing by category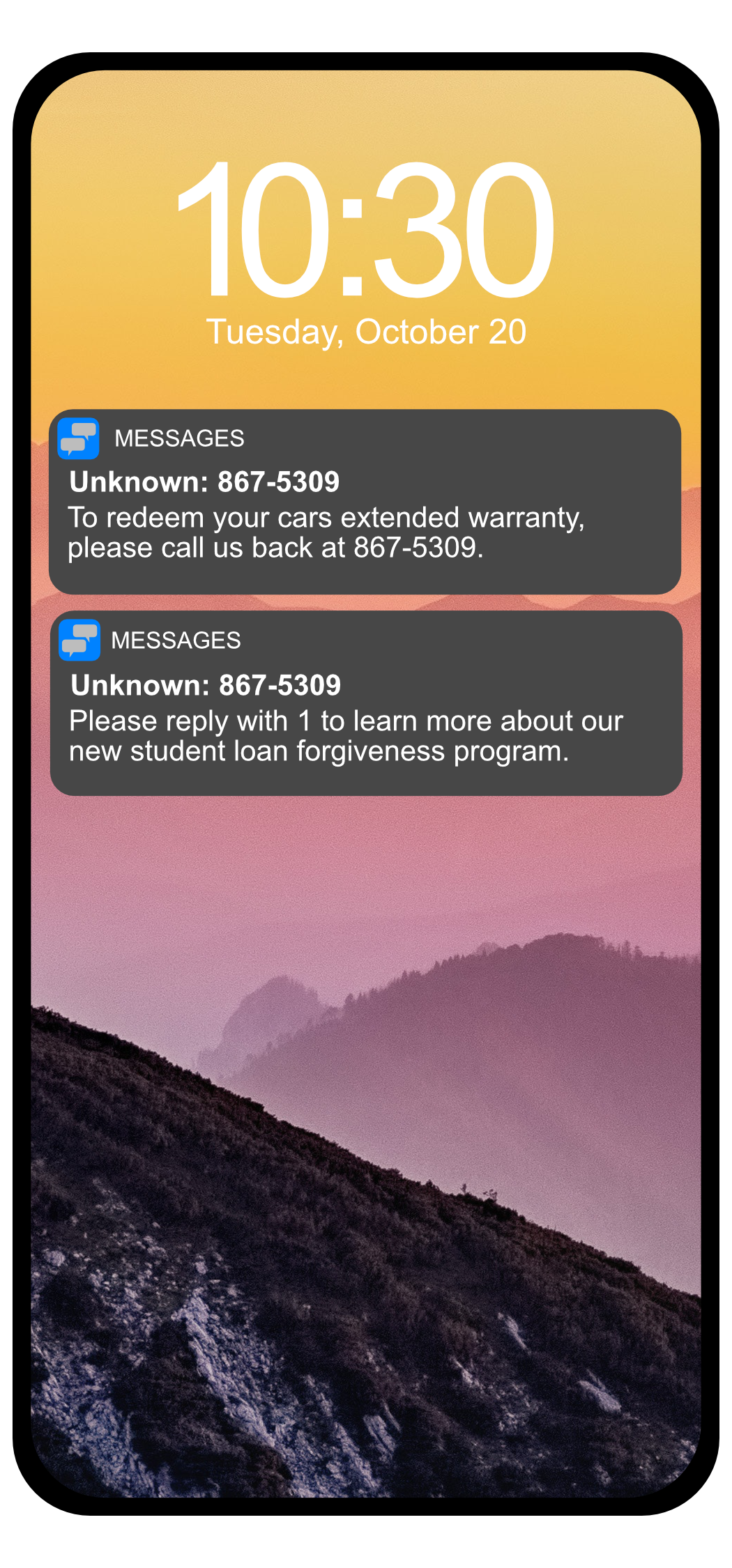 When you see texts or emails like the ones pictured to the left, or get calls with similar content, the sender or caller is generally not legitimate. Due to an increased number of phishing phone calls and text messages, VSU Information Security would like to give you some tips to protect your personal information and avoid identity theft. These tips apply to phishing calls or messages on your personal phone(s), work phone, and email.
Handling unexpected messages or calls:
Unexpected text, email, or voicemail messages from unknown senders are one indication that the message may be fraudulent. Don't click on links or reply; delete the message.
If you receive a call from an unknown number that you weren't expecting, allow the call to go to voicemail. If the caller leaves a message, you can determine the purpose of the call and whether it is legitimate before responding.
If you do answer a call, and believe it might be a scam, hang up as soon as possible. Don't give the caller any information, especially credit card numbers, passwords, or banking information.
Identifying legitimate senders:
If you regularly receive calls or texts from a person or business, add a contact in your phone or email address book so that the sender will be recognized.
Legitimate callers will provide their names and a call-back number so that you can reach them.
Official entities, I.e. the Internal Revenue Service, VSU Information Technology, Microsoft, etc, will not call you or text you to ask for your credit card information, account password, or banking information.
If you respond to a scam:
You may need to notify different places based on the type of information that was provided to a scammer. For example, if you shared your banking account number, you should contact your bank for assistance. These are some basic steps that apply to most situations.
Change any passwords for accounts that might have information revealed.
If you gave the scammer any financial information, including bank routing numbers or credit card numbers, notify the bank or credit agencies and pause payments on that account.
Be sure to use a different password for each account to reduce the risk of identity theft.
Enable 2FA on all accounts that support multi-factor authentication in addition to using strong passwords.
For more tips on handling scam calls and messages, please check our previous bulletin, available here: Password Security Recommendations